About Us
Tanotec, located in San Jose, California, the heart of Silicon Valley has launched in 2018 to be the leading full line distributor of all kinds of components and equipment in semiconductor, display, solar, and more.
Philosophy
The truth and the strong sense of responsibility are the words representing Tano, Inc (AKA Tanotec). Above all things, we are sure that the truth is the most power in the business as well as our daily life. Tanotec would like to contribute to make you and your esteemed company's dreams and goals come true with all our company's superior and reliable technologies, experiences, and best services.
Team & Experience
Our sales and marketing team has 25 years experience in sales, marketing, and consulting in the industry. Thus we have a huge business network.
Tanotec's S/W development team has more than 20 years experience in developing enterprise inventory and logistics management solution, and currently develops our online system to provide the easy, fast, and more convenient inventory and data searching solution.
Vision
We offers selected high quality components. We always do provide the best components with the best prices and the best shipping service to satisfy our valued customers' needs. To achieve our goals, we will continue to pursue to find out the best products and upgrade production, research, and development new items. We promise Tanotec will be the honest and the world's premier company.
Business Model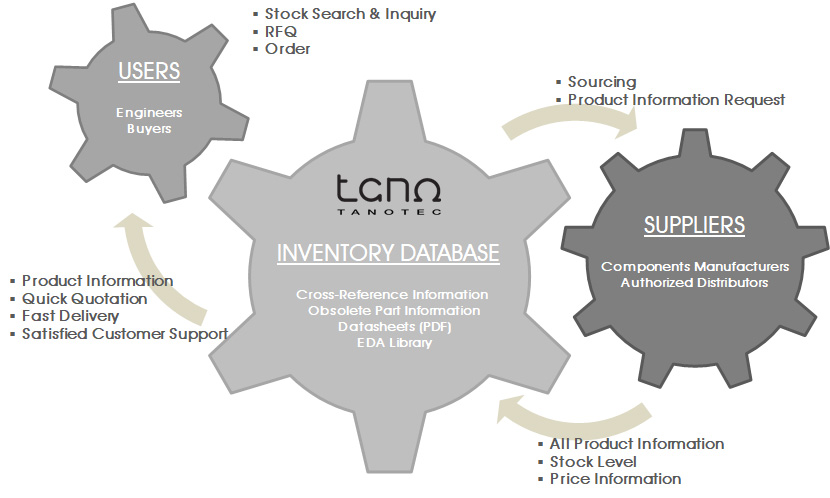 PROS in Tanotec Online System
Search Engine Optimized and Mobile Friendly e-Commerce Site
Tanotec Online Store will be Expanded to Platform Business (Suppliers manage inventories directly in the future)
Excellent Product Advertisement and/or Promotion
Generate Instant Sales through e-Commerce System
Banner Advertisement
Various Promotion (Offer Discount Coupon)
Flexible Payment Option for Buyers
Manage Buyers through Online
Easy Navigation & Search
Database by Industry
Product Information (Photo, Video, Price, Stock Level, Lead Time, etc.)
PDF Datasheet
Cross-Reference Search
Obsolete Part Search
Easy & Quick Online Search Interface
Marketing Point
Online / Offline Sales Representative
Send Newsletter to Engineers & Buyers by Industry
Google Keyword Advertisement with SEO
Attend Exhibits
3rd Party Online Sales (Amazon, eBay, etc.)
Article & Advertisement on Magazines
Viral Marketing through SNS link (YouTube, Facebook, Instagram, LinkedIn, etc.)
Customized Website Development
Alliance with Distributors